Element

acular

Forget the long simulation and rendering times normally associated with volumetric 3D cloud construction.
The Elementacular MAYA plugin is simply a material applied to your geometry -
with lightning fast user-controlled fractal generation enabled by powerful GPU acceleration.

Quickly tweak your production quality results without having to re-parameterize.
You maintain full control over the cloud shape through direct manipulation of the underlying geometry –
even after it is converted into a cloud!

And if you want to change the look of your cloud – maybe turn it into a fireball or a special effect -
go ahead and adjust the geometry, lighting or fractal.
All in real-time!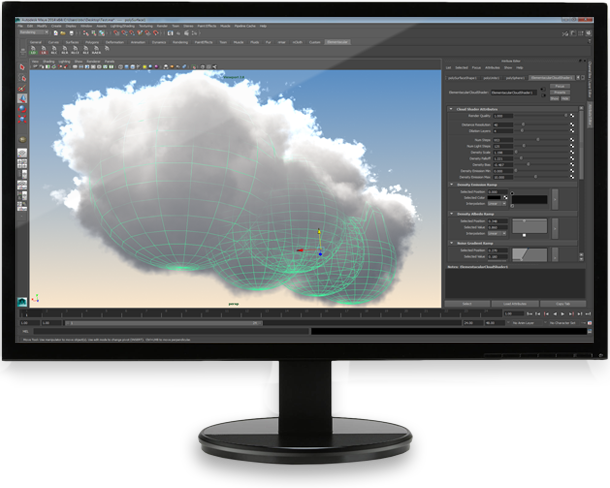 features
Real-time production quality volume construction in Autodesk Maya.
The resulting volume automatically reflects the underlying geometry.
Physically based multi-scattering of light.
User-controlled volume characteristics.
User-controlled volume emission.
User-controlled reflectance.
Multiple light sources.
Full 32-bit HDR pipeline.
Export to OpenVDB.
FREE VERSION
Requirements
Windows (64 bit)
Maya 2014, 2015, 2016, 2017 or 2018 
GPU with OpenGL4.4 support